Carlsbad is one of San Diego County's most sought after coastal communities.  Nestled just 35 miles above San Diego and roughly 80 miles below Los Angeles it is the ideal location for individuals and families who are looking to live the beach lifestyle yet stay close to the city.  Marine Corps Base Camp Pendleton is also just north of the Carlsbad area.  Most of the homes in Carslbad are located around Interstate-5 making these cities and Camp Pendleton easily accessible.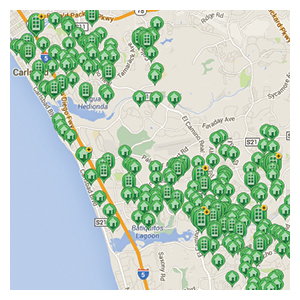 Carlsbad Homes for Sale
What usually stands out to first time visitors of the Carlsbad area is the great economy.   Carlsbad is home to many large named companies like Callaway Golf, TaylorMade Golf Company/Adidas, Legoland, Life Technologies, Asymtek, as well as many other large companies.  A lot of those companies employ over 600 people in the Carlsbad area! Because of these companies Carlsbad is home to many transplant residents who have relocated to the Southern California area.
As for the homes in Carlsbad, you can find almost any type of housing situation you prefer in this area.  There is everything from condos to luxury homes and most of the homes in this area have ocean views.  There is also a large amount of investment home opportunities in the Carlsbad area.  As stated before, since a large amount of people relocate to the Carlsbad area as well as the city neighboring a military base, there are great opportunities to invest in Carlsbad real estate.   Homes in Carlsbad have a wide price range and mostly depend on the condition and location.
If you're interested in moving to the Carlsbad area or you would like more information Contact Me Here.

Carlsbad Real Estate
View Other Featured Real Estate Communities