Carmel Valley continues to impress current residents, buyers considering the area as well as realtors alike.  The reason why Carmel Valley is so impressive that it continues to lead San Diego county in so many real estate statistics.  What those statistics basically state is that Carmel Valley residents love their homes and continue to pay top dollar for their residence.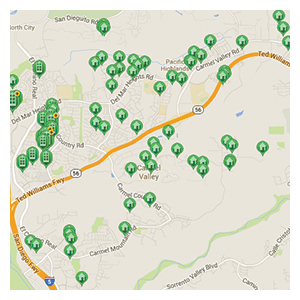 Carmel Valley Homes For Sale

The key factors that have resulted into such a great real estate market in Carmel Valley have been but are not limited to: great school system, family friendly for all ages, and a tremendous geographical location.  Carmel Valley is nestled between Torrey Pines, Del Mar, Fairbanks Ranch, and close to Mira Mesa Blvd.  All those previously stated locations are some of the wealthiest locations in San Diego County.  This has resulted in the Carmel Valley benefitting from it's neighboring communities.
Carmel Valley homes are all mostly on the newer side as the community began master building homes in roughly 1984. These homes usually match the income levels of the residents which tends to be on the higher side.  With that said, there is numerous options for first time home buyers in the area including great condos, town homes, and smaller residence.  Most of these homes offer great views of Carmel Mountain as the whole area is located in close proximity to the one of a kind mountain.
If you're interested in moving to the Carmel Valley area or you would like more information Contact Me Here.

Carmel Valley Real Estate
View Other Featured Real Estate Communities