Escondido, Spanish for "hidden", lies 10 miles inland and just 30 miles north of San Diego, CA.  This beautiful community is tucked inside the surrounding mountains and cliffs of San Diego County and a lot of the homes utilize the surroundings for privacy.  In Escondido, it's fairly common to find homes that are on large rural lots as well as properties inside of private gated communities.  The privacy though can not be confused with secluded in this area as even though your home may be tucked away you are still always within a short distance to all the major necessities.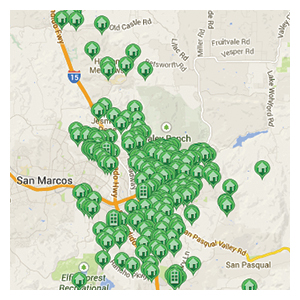 Escondido Homes For Sale

One of the major attractions in Escondido is the San Diego Safari Park; formerly known as the San Diego Wild Animal Park.  This gorgeous attraction is a favorite of locals and tourists alike.  The most unique feature of this park is the zip line.  On the zip line you will be able to see all of the park from about 160 feet in the air for a 2/3 mile ride.  It truly is exhilarating and gives you an amazing view of the park as well as the Escondido area.
The Escondido area is located just off of 15 freeway which travels North and South as well as the 76 freeway that heads East and West.  This means wether you want to hit the beach for the day, or you would like to head down into Downtown San Diego it is only a few minutes before you are freeway bound.  One of our favorite parts regarding Escondido though does not take any driving.  If you purchase a home near downtown Escondido every Friday night from the months of April to September you can check out the Cruisin' Grand event.  This is where you can view over 500+ collector cars traveling down Grand Street in Escondido.  It truly is an amazing event to see.
If you're interested in moving to the Escondido area or you would like more information Contact Me Here.

Escondido Real Estate
View Other Featured Real Estate Communities