The wonderful and picturesque community of Rancho Bernardo is one of the highlights of North San Diego County. This area is located just 20 miles above Downtown San Diego yet at times field worlds apart from the sometimes loud and fast paced downtown atmosphere.  With a resident population around 45,000 people, this city is big enough to fill your big city needs yet with over 7,000 acres you can find your quaint quiet locations as well.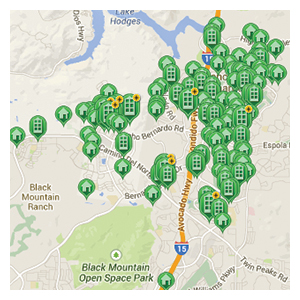 Rancho Bernardo Homes For Sale

This area's real estate spreads across every need.  Rancho Bernardo is home to numerous condominiums, single family homes, as well as luxury homes.  The condos in Rancho Bernardo tend to stay around the $200,000-$300,000 range, the single family homes are usually in the $400,000-$600,000 range, and the luxury homes can be anywhere north of $800,000.  In addition to the condos, single family homes, and luxury homes, Rancho Bernardo is home to some of the best Senior Communities in San Diego County.
The two Senior Communities in Rancho Bernardo are called Seven Oaks and Oaks North.  Seven Oaks is a Senior Community built in the late 1960's and early 1970's.  This community is filled with both attached and detached homes. The attached homes are townhomes (all ground level) and are roughly 1000sqft 2 bedroom homes.  They usually sell for around $250,000.  The detached homes inside the Seven Oaks community are 1300-1600sqft homes that range from $300,000 to $500,000 in sales price.  Oaks North on the other hand, was built around the 1980's and has almost 2000 homes in it's community.  A lot of the homes in Oaks North homes either  overlook or are within short walking distance of the Oaks North Golf Course. Oaks North has three different types of homes; condos, single story town home "villas", and detached homes.  The condos range around $200,000. The villas sell for around $300,000 and the Detached homes can sell anywhere around $400,000-$500,000.
If you're interested in moving to the Rancho Bernardo area or you would like more information Contact Me Here.

Rancho Bernardo Real Estate
View Other Featured Real Estate Communities