Scripps Ranch, also referred to occasionally as Scripps Miramar, is a community that is located just North of Marine Corps Air Station Miramar.  This community is filled with just under 11,000 homes and roughly 30,000 residents.  This area has become popular due to it's convenience to the numerous surround freeways.  For military members, they can either take the back roads, freeways, or even Mira Mesa Blvd or Miramar Road to get to their base.  For civilians residents of Scripps Ranch you can take same roads, freeways, and roads to reach some of the largest corporations in San Diego County.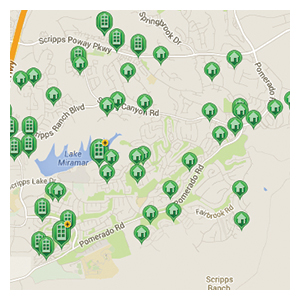 Scripps Ranch Homes For Sale

Along with the convenience factor, a lot of residents love the Scripps Ranch community due to the outdoor activities associated with the area.  If you like to fish and boat you have Lake Miramar as well as Lake Poway within close proximity of this community.  If you prefer walking and exploring, Lake Miramar's paved path is a real treat.  Along with the nature there are numerous parks (even dog parks) in the area that are some of the best in San Diego.
The homes in Scripps Ranch vary from first time home buyer condominiums, town homes, and houses all the way to luxury estates.  There truly is a wide variety of homes and income levels in the area due to the wide difference of surrounding businesses.  Your neighbor can either be a United States Marine stationed at Miramar or a tech guru for LG Electronics that has an office in Scripps Ranch.  It really is a diverse yet friendly community.
If you're interested in moving to the Scripps Ranch area or you would like more information Contact Me Here.

Scripps Ranch Real Estate
View Other Featured Real Estate Communities